Foundational Health
"Foundational Health" is a new promotion we are starting at Andreano Chiropractic to get patients the valuable, necessary vitamins that people often miss in their diets. The core supplements in this promotion are Catalyn, Congaplex, OrthoMune, our collagen supplements, pre & probiotics, and our fish oil supplements. We wish to work these probiotics and the vitamins they yield into the diets of our patients to better their path on the road to wellness.
What is Catalyn? The Benefits & History of Our Favorite Multi-Nutrient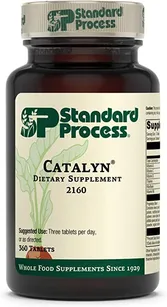 Catalyn is a whole food supplement that acts as a catalyst (as the name implies) to replenish the body with the necessary phytochemicals and micro-nutrients that are missing from today's standard American diet. Catalyn directly supports the main organs and glands in the body, as well as the microbiome and gut. By nourishing the microbiome, Catalyn provides the right environment for our body to make more of the healthy bacteria that allows the body to digest food and more easily derive energy from it, as well as a multitude of other benefits.

Catalyn is the oldest whole food supplement and started the whole foods movement when it was created back in 1929 by Dr. Royal Lee. It is produced in Palmyra, WI by Standard Process, a company best known for its holistic approach to supplementation. Their philosophy is to give your body the proper building blocks to innately heal itself, the way nature meant it to be. Catalyn is comprised of 12 nutrient-rich whole food ingredients, mostly grown on Standard Process's organic farms.
Types of Catalyn
There are 3 forms of Catalyn, all of which are available for our swap: Standard Catalyn, Catalyn Gluten Free (GF), and Catalyn Chewable. Even though the main ingredient is wheat germ, Catalyn should not trigger a gluten sensitivity, although it's important for patients to check with Dr. A to be sure. If there is an issue, patients can use gluten-free Catalyn GF instead. It serves the same purpose in the body, but with a different recipe that uses rice bran rather than wheat germ. Catalyn Chewable is a cherry-flavored supplement that can help incorporate valuable nutrients into the diet at a young age and make nutrition FUN. People of all ages love this product, but the human body loves it even more!

Schedule An Appointment Today!
Be sure to take part in this limited-time deal before it's too late! Click here to set an appointment with Andreano Chiropractic today and begin the best part of your journey on the road to wellness!