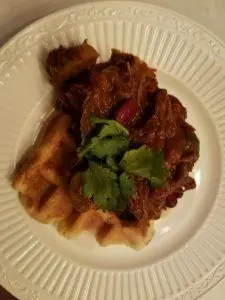 4 tablespoons Olive Oil
1 Yellow Onion, chopped
1 Red Bell Pepper, chopped
2 Red Jalapeno Pepper, chopped (Dr. A used the ones from his Tower Garden)
4 cloves Garlic, minced
3 pounds Beef Short Ribs, chuck or brisket
1 tablespoon Worcestershire Sauce
1 teaspoon Garlic Powder
1 12 ounce can or bottle Beer
1 28 ounce can Crushed San Marzano Tomatoes
1 14.5 ounce can Fire-Roasted Diced Tomatoes
1 12 ounce can Tomato Paste
2 tablespoons Chili Powder
1-1/2 teaspoons Smoked Paprika
1 teaspoon Salt
½ teaspoon ground Black Pepper
1 teaspoon Dried Italian Seasoning
2 16 ounce cans Dark Red Kidney Beans
1 pound Brussel Sprouts, quartered
3 tablespoons chopped fresh Cilantro
3 tablespoons chopped fresh Chives
Heat oil in a large pot over medium heat; cook and stir onion, bell pepper, jalapeno peppers and garlic in the hot oil until softened.
Meanwhile, heat a large skillet over medium-high heat. Cook and stir beef in hot skillet until browned, 5-7 minutes; add Worcestershire sauce, garlic powder and beer. Continue to cook, scraping any browned bits from the bottom of the skillet, until liquid is hot, about 3 minutes. Stir beef mixture into pepper mixture. Sauté Brussel sprouts in beef pan with olive oil and garlic until browned and add to beef and pepper mixture.
Stir crushed tomatoes, diced tomatoes, tomato paste to the beef mixture. Season with chili powder, paprika, salt, black pepper and Italian seasoning. Bring to a boil and reduce heat to medium-low. Cover and simmer until meat and vegetables are very tender and flavors have developed in the chili, about 90 minutes, stirring occasionally. Can simmer 3 plus hours for best flavor. Remove meat, chop or shred and add back to chili.
Mix kidney beans into chili. Continue to simmer until beans are hot, about 30 minutes or more. Serve over gluten free corn bread waffle. Garnish with cilantro and chives. ENJOY!