Spring Mix Lettuce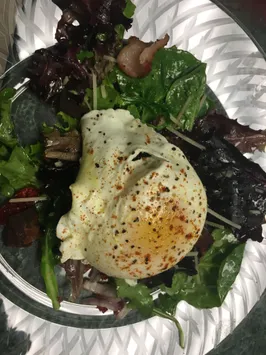 Sundried Tomatoes, chopped
Shallots, sliced thin
Parmesan Cheese, shredded
Thick Cut Bacon, cut into ¼" pieces, cooked
Extra Virgin Olive Oil, good quality
Cranberry-Pear Vinegar (this is what we used, but any flavor will do)
Fresh Garlic, chopped
Organic Celery Salt, to taste
Coarse Ground Pepper, to taste
Ground Chuck, grass-fed (makes 5 burgers per pound)
Ketchup
Eggs
Worcestershire Sauce
Ground Fennel
Salt/Pepper
Eggs, 1 for every slider, poached
Paprika
Avocado
The spring mix salad is the base for the dish. First, combine the organic spring mix, shallots, sun-dried tomatoes, parmesan cheese and cooked bacon. Then add the extra virgin olive oil, vinegar, organic celery salt, garlic, pepper, and any additional herbs to your liking and toss the salad mixture so that the dressing is distributed evenly over the salad. Plate the dressed salad.
To make the burger, mix the ground chuck with egg (1 egg for 2 pounds of ground chuck), ketchup, Worcestershire sauce, ground fennel, salt, and pepper. Mix together with hands, roll into balls, and press into patties of desired thickness. On medium-high heat, cook burgers on grill or indoor grill pan (like we did in class) so that you see the grill marks. Cook to doneness. Layer burger on top of spring mix.
The next step is to poach the eggs. We like to use chicken broth instead of water with a splash of vinegar, which holds the egg together. Boil the broth/vinegar mixture and crack the eggs into the boiling mixture. Poach the eggs as usual. Remove egg with a slotted spoon and place on top of burger! Slice avocado and place decoratively around salad. Top egg with paprika and pepper. Enjoy this protein-packed nutritious slider salad!